Eldacur Bluish for Kaleidoscope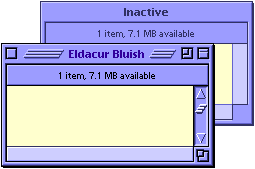 Eldacur Bluish is a Kaleidoscope color scheme for the Macintosh. Kaleidoscope is a Macintosh extension, developed by Greg Landweber, which allows you to change the appearance of windows and icons on your Macintosh. While Kaleidoscope can change the colors, decorations and even the shape of windows as well as the icons used for the folders and other system elements on the Mac, Bluish changes only the color and decorations.

The picture to the right shows a typical Macintosh Finder window as rendered by Eldacur Bluish. As you can see, it's done all in blues, generally lighter shades, and the window decorations are kept fairly simple.

Bluish is our third Kaleidoscope color scheme. I say "our", because this one is mostly the work of my son, Brendan. He and his brothers helped me with my earlier Kaleidoscope projects -- my own color schemes and my work adapting icons for Layne Karkruff's Dragon System -- so when he couldn't find a scheme that he really liked among the one's I downloaded, I suggested he create one of his own. My only contributions were basically the few icons I did while showing him how to use ResEdit and Design Studio and a bit of advice.

If you'd like to use Eldacur Bluish, feel free to download it by clicking on the icon to the left. The current version of Bluish is 1.7, the second patch to the formal release of the scheme. If you downloaded an alpha or beta version, please download the final version.

To use Eldacur Bluish, you must have at least version 1.5 of Greg Landweber's Kaleidoscope. You can read about or download Kaleidoscope from Greg's Web page.





Brons
Updated: Tuesday, July 15, 2008
---
|| Home Page | Musings | Role Playing | Nerd's Corner | News | Genealogy | Eldacur | Free Speech etc. ||
---
|| Brons's Home Page | The Nerd's Corner Index ||
---
Copyright © 1998, Jim Burrows. All Rights Reserved.