Swashbuckling Women of Movies, TV, Theatre, etc.
This page is dedicated to the swashbuckling women of the modern day. Some are characters in film, television and the stage, but others are real swordswomen, who like La Maupin enjoy performing and flaunting tradition. Here they are, starting with the gallant cavaliers of the screen.
Jacques/Jacqueline
"Young Blades"
Karen Cliche
"Gloria"
Lady Cavaliers
Bevin Kaye, Kittson O'Neill
& Carrie Brewer as Gloria
Queen Christina
Queen Christina is based on an historical figure, although the story has been "tidied up" some for Hollywood's use, and the Queen made rather more physically glamourous.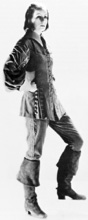 Queen Christina was an older contemporary of La Maupin. The Queen was born in 1626 and died in 1689. She ruled Sweden from 1644 to 1654. The only daughter of King Gustavus Adolphus, she was at his orders raised as a prince. She was a patron of the arts and sciences, taught by Descartes who died in her court and the sponsor of Scarlatti among others. Her masculine education parallels La Maupin's and could even have in some way inspired her father, as the Queen was famous, or even notorious at the time.
The real Queen abdicated in 1654. She gave her reasons as ill health and that the burden of ruling was too heavy for a woman. The second of these reasons is hardly credible coming from Christina, especially given her later attempts to take the crowns of Naples and Poland. The orthodox explanation is that she was averse to marriage and had converted to Catholicism. She did so convert and lived the rest of her life in Rome. Some attribute her aversion to marriage to the queen having been a lesbian (see for instance the review at PopcornQ), in love with Countess Ebba Sparre who lost interest in her when she abdicated. Evidence from her diaries, decoded in the 19th century indicate that Cardinal Decio Azzolino was her lover, as was generally assumed to be the case in Rome in her day. This does not preclude her being a lesbian, but at least suggests that she was more likely bisexual.
In any event, Garbo's Queen Christina seems a plausible image to represent La Maupin in the absence of an actual portrayal, so I have used a picture of her as the icon in the upper left of each of my Maupin pages.
Claire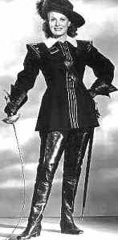 Maureen O'Hara's character Claire from "At Sword's Point" (also known as "The Sons of The Musketeers"), like La Maupin is a superb swordswoman. When the ailing Queen summons the sons of her old rescuers, d'Artagnon and the three Musketeers, Claire, the daughter of Athos, disguises herself as a young man and joins the other three. They meet at a tavern and she and the young d'Artagnon (played by Cornell Wilde) end up crossing swords in a fight somewhat reminiscent of La Maupin's
encounter with d'Albert
.
The movie strays quite a way both from Dumas and from history, but personally I've always enjoyed it. O'Hara's Claire, while more timid and less flamboyant than La Maupin, is a still a strong character and her presence serves to distinguish the story enough that it isn't the horrible retread that so many Hollywood sequels become. That she is mistaken for a boy is about as unbelievable as it was with Garbo in Queen Christina, but it leads to amusing byplay. I suspect that the scene where she and her three companions are asked to share the last bed in the inn is directly inspired by the Garbo film.
Amanda and Rebecca Horne
Amanda, a recurring character on Highlander, The Series, and star of Highlander, The Raven and her mentor, Rebecca Horne, from the second season Highlander, the Series episode "
Legacy
" are a bit more distant from La Maupin than Claire or Queen Christina. While both dress, at times, in masculine clothing, they do not attempt to pass for male, nor show any signs of lesbianism.
Amanda is about 1200 years old, and Rebecca older than that. Duncan who is now a little over 400 met the two together in 1635 only a short time after he discovered his immortality. They were, from his reaction ("But you're women!"), the first two sword-wielding women immortals he had encountered, though not the last. The image of the two women dressed as cavaliers, Rebecca amusedly self-assured, and the younger (800 year old) cocky Amanda, toying with poor Duncan is really quite a wonderful image, and one that admittedly colors my own notions of La Maupin.
Jacques/Jacqueline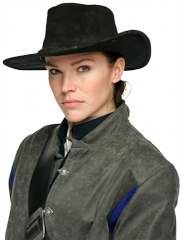 Like Maureen O'Hara's Claire in At Sword's Point, the newest swashbuckling woman on TV, Karen Cliche's character plays off opposite the young d'Artagnon, son of the famous Musketeer. Unlike At Sword's Point, though, d'Artagnon only one of the four young Musketeers in Young Blades is related to their famous predecessors.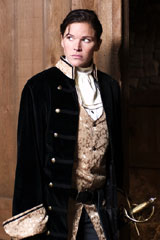 Cliche's character "Jacques", was born Jacqueline Roget, the daughter of a farmer, who grew up admiring the famous d'Artagnon and wanting to be a Musketeer, though she knew her sex would prevent it. Nonetheless she learned to fence against, and defeat her brother. When a captain of the evil Cardinal (this time Mazarin, not Richelieu)'s guard kills her father and arrests her brother, she slays the captain and flees on his horse. To avoid arrest and infiltrate the dungeons, she disguises herself as a man and joins the Musketeers. Only d'Artagnon knows her secret. To the rest Jacqueline is "Jacques LePonte".
It's hard to believe that many would be fooled into thinking that Cliche is a man, but as the picture to the left shows, she gives it at least a good try. Her dress is a little early for La Maupin, but the tall action series veteran does a creditable job at swashbuckling.

La Maupin
Clearly the most Maupin-like character on stage or screen in recent years has been La Maupin herself. Since I started these pages, La Maupin has been portrayed at least twice on the stage and just recently on TV. I've also learned that back in the 60's she was the subject of the movies. The portrayals vary quite a bit in historical accuracy, and draw on both the real La Maupin and on Gautier's fictional Madeleine de Maupin.
Julie, Chevalier de Maupin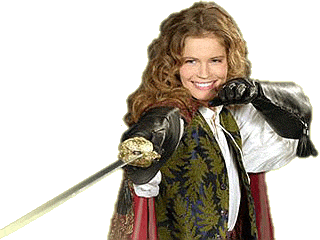 The first half of the 2-part mini-series Julie, Chevalier de Maupin premiered in France this past Monday, September 6, 2004. The second half will be aired on Monday, the 13th. According to IMDB, the show's world-wide premiere was in the French-speaking region of Switzerland on August 28th. Being in the US, I haven't seen the movie, but there's a fair amount of coverage of it on the Web.
A couple of the articles about the show indicate that it is based on Gautier's novel. One of them, a site devoted to fencing decries the fact, wishing that it were based on the real La maupin. I believe, however, that they are mistaken. Rather, it would seem from the few synopses I've been able to translate from the French and German, that it starts with the historical Julie, but adds satanic cults ala the Affair of the Poisons and an orphan seeking the mystery of their birth. Purists will no doubt decry this fictionalization, but as few people's lives follow actual plots, one can understand the writer's desire to introduce one. Julie's search for her true identity is classic swashbuckler fair.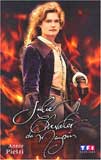 La Maupin is played by Sarah Biasini, the daughter of actress Romy Schneider, who is best known to Americans for her role in Woody Allen's What's New, Pussycat. Interestingly, the role of the Mother Superior is played by Catherine Spaak, who played "Mlle de Maupin/Theodore" in the 1966 film Le Chevalier de Maupin (see below). Also featured are Pierre Arditi, who played Villefort in the Gérard Depardieu Count of Monte Cristo, Marisa Berenson, Jürgen Prochnow and Gottfried John. As the cast is European, I may have missed actors who are better known there than here in the US.
It would appear that a novelization of the show by Annie Pietri is also available. Sadly, like the movie, it has the same title as Anne-France Dautheville's 2000 novel of La Maupin's life, Julie, Chevalier de Maupin. Both are available from Amazon.com in France, although Dautheville's novel is out of print.
Duellists: The Forgotten Champions
Theatre Ten Ten
Feb 18 - Mar 6, 1999
La Maupin was portrayed on the stage by Ricki G. Ravitts in "Duellists: The Forgotten Champions", a series of original one-act plays about the history of the duel that played at Theatre Ten Ten in New York City in from February 18, 1999 to March 6, 1999.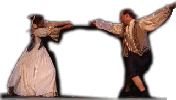 Duellists featured over eight duels and melees starting with the first "duel of honor" in 1547 through to the final documented duel in 1958. "Mlle Maupin", written, choreographed & directed by Ricki G. Ravitts opened Act II, and features her "defending her honor against three men in a single night in Paris in 1703". I haven't seen the play, so I'm not sure which fight or fights it is re-enacting. There are two instances of La Maupin fighting three men at once. The first occurred at the Ecu-Neuf Inn in Villeperdue in about 1690, when she met and fought d'Albert. The second occurred in 1693 or 1695 when three young men took umbrage at the attentions she paid to a lady at a Royal Ball.
Ricki, an attractive woman with long nose and red hair, seems like a good physical match for La Maupin. She is an actress, playwright and fight director.
Trouser Parts
Grinning Dragon Theatre
January 13-16, 1999
Appartently, La Maupin has also been played by a Candian dancer and actress named Kim Tuson in a musical anthology called "Trouser Parts", part of the Vancouver Fringe Festival's 1997 season and again in early 1999. Trouser parts was written by David Bloom, choreographed by Rita Bozi (who also performed) with music composed by David Rhymer.
Ed Farolan says of the La Maupin segment of Trouser Parts in his review, "Then there's the absurdist humour in La Maupin, excellently acted by Kim Tuson, who plays a Lesbian singer of the Paris Opera in the 17th century."
A review in the Calgary weekly FFWD quotes Bloom,
"There was also an opera singer named La Maupin who was the star of the Paris Opera in the 1690s. She used to dress as a man and go out and get into sword fights and pick up women. She was a real person, but the particular part of the show that's devoted to her is very cartoon. You could easily think we made it up, but it's based on an actual event in which she got into a sword fight with three men and beat them all."
or Madamigella di Maupin
or Mademoiselle de Maupin
Released in 1966

Catherine Spaak played the role of Madeleine de Maupin in the Franco-Italian movie "Le Chevalier de Maupin", which was also released as "Madamigella di Maupin". The movie takes inspiration from Théophile Gautier, but the story, at least as described on the CineDestin page (not longer there, but the entry at AllMy.nl is similar), is quite different from Gautier's novel:
Madeleine de Maupin is a romantic girl who lives as a recluse in her uncle's castle, and dreams of adventure. Taking advantage of the invasion of Hungarian troops, she flees, disguised as a monk, towards the freedom she burns to discover. Drafted into in the the King's army, the young girl soon becomes the standard-bearer Theodore. She has to repulse the advances of both men and women who are strangely attracted by the charm of the young soldier; but Madeleine is secretly in love with her captain, Alcibiade.
The Queen of Swords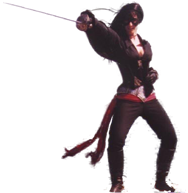 The Queen of Swords was a TV series brought to you by many of the same people involved with "Highlander, the Series", "Highlander, The Raven" and "Relic Hunter". The title character is sort of a slightly mystical female Zorro. Born Maria Teresa Alvarado at the beginning of the 19th century in Spanish California, our heroine was educated in Spain. Unbeknownst to her father, one of the things she learned there was the sword. When her father is killed by the minions of the evil Colonel Montoya, Tessa returns to California and guided by her servant Marta's Tarot readings and the ghost of her father, she assumes the role of the Queen of Swords, masked avenger and righter of wrongs.
Tessa was played by newcomer Tessie Santiago, a beautiful and talented young lady. This was Tessie's first role and while her acting skill was still a bit undeveloped, she brings the role a tremendous vigor, a bit of humor and enough presence and physical ability to make The Queen believable.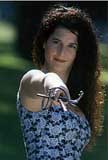 Roberta Brown
Roberta Brown also played the Queen of Swords as Tessie's fencing double, and is an
actress
in her own right. In many ways Roberta is the most Maupin-like of the women on this page. She a very good looking woman with an aquiline nose and dark auburn hair, just as La Maupin is described. She is also a skilled sword master, and while not, so far as I know, an opera singer she is an actress and dialect coach.
Mary Rose
Bo Derek appeared in "the Queen of Swords" as Mary Rose, a retired lady buccaneer and sea captain who is determined to protect her son from a charge of murder. Maria Teressa is the chief witness against him, providing us with a reason for Mary Rose and the Queen of Swords to cross blades.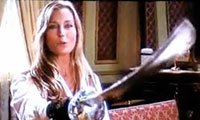 I always thought Bo was the least interesting of the Mrs. Dereks, but she has decidedly improved with age. She's still not one of the finest actresses of her day, but she's an extremely attractive and athletic woman with a lot of charisma. She makes the swaggering Mary Rose an unexpectedly believable character. Twice Tessie Santiago's age, the blonde Bo made a beautiful contrast to the black clad Latina.
Mary Rose appears to be based loosely on Mary Read and Anne Bonny, the "Pirate Queens" who lived just about a century before the setting of The Queen of Swords, and takes her name from a famous warship and wreck. Both Mary and Anne were younger contemporaries of La Maupin, fierce fighters and swordswoman who, like La Maupin, occasionally passed for men but fought as women as well.
Sam Alden and the Babes With Blades
No list of contemporary La Maupin-like women would be complete without the "
Babes With Blades
", a Chicago-based troupe of female stage combat performers. I've chosen their founder Dawn "Sam" Alden for the picture at the top, but the entire troupe deserves a tip of the hat... and I for one wouldn't want to be so rude as to refuse it to them. No fool, I.
Sam and fellow Babe with Blade, Kathrynne Ann Rosen, appeared in the second episode of Xena Live!. Sam was also in the first episode as Aphrodite. In this one she's a... chicken. The roll of Xena has been played by Elizabeth Laidlaw and Alexandra Billings. Elizabeth's other work includes the recent Chicago production of Shakespeare's "As you like it", in which she plays the cross dressing Rosalind to excellent reviews. Alexandra is a transgendered theatre actress and cabaret singer with one CD to her credit.
Carrie Brewer & The Lady Cavaliers
Chicago is no longer the only town with a female stage combat troupe. New York now has
The Lady Cavaliers
. The picture above shows
Carrie Brewer
as the title character Gloria being threatened by
Bevin Kaye
and
Kittson O'Neill
in their first production
"Gloria"
. Carrie is the creator and artistic director of The Lady Cavaliers and Bevin their producer. All three would make fine modern versions of the auburn-tressed lady cavalier, La Maupin.
Their next production is "Bold in 'er Breeches", which will be playing again this summer at the South Street Seaport in New York city. Carrie is shown here with resident artist Judi Lewis in a publicity picture she sent me for their first season. (One of the many rewards of running a page like this is getting e-mail from modern Maupins.)
Oscar Francois de Jarjayes
Lady Oscar
, the heroine of
"The Rose of Versailles"
is a character who started out in Japanese manga and could easily have been based in part on La Maupin, although her story is set about a hundred years later, at the time of the French Revolution. The story has been told in manga (comic books), anime (animated film), live action film and even inspired a video game character.
Oscar is the fictional daughter of the historical General Jarjeyes. The general, frustrated at having only daughters names her Oscar at birth and passes her off as his son. Most of the characters and many of the incidents of the story are historical.
Related Characters
Technically, the character in Samurai Shodown is "Charlotte Christine Colde" and not Lady Oscar, but is seems fairly clear that Charlotte is based on Lady Oscar. Since as a game character her story is necessarily somewhat abbreviated I decided to treat her as an version of Oscar.
Charlotte, like Oscar is French and head of the guard at Versailles, and is listed as having been born in 1761, about the right time for Oscar. Her sword is called "La Rose". At six feet, she is taller than Oscar and dresses in substantially more armor than is appropriate either to Oscar or her time period. She appeared in Samurai Shodown 1, 2, and 4 as well as the RPG.
---
Utena isn't clearly French nor does she pass for male, but she is a sword wielding cavalier, who, like Lady Oscar and Charlotte, is associated with roses. This seems to be a recurrent Anime theme, though I'm not sure why. Utena has been a TV series and a movie.