The Immortal Amanda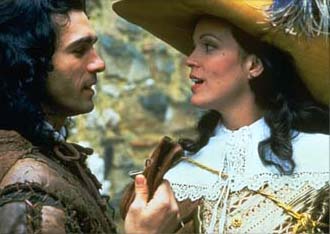 Amanda has appeared dressed as a cavalier in twice. The first time as the young raven haired companion to Rebecca in "Legacy", a second season episode of Highlander, the Series. Her costume was wonderfully flamboyant, like something out of The Three Musketeers, her gold and yellow an excellent contrast to Duncan's more somber colors. Of course, she stole his purse.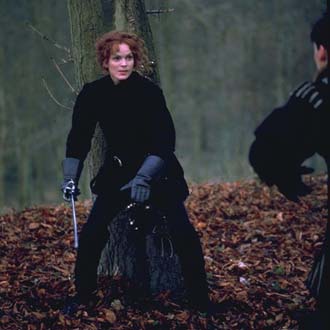 Her second cavalier appearance was on her own series, Highlander, the Raven, in the episode "The Manipulator". This time her hair was auburn and she dressed all in black in her role as bodyguard and clandestine weapons instructor to a young noble lady.
Both versions work well as visions of La Maupin who was magnificently flamboyant and a deadly mistress of the sword.
Higher resolution versions of the pictures can be found in the episode's page on Dominique's Highlander, the Raven gallery.