Disney World 1999
I'm using this page to store pictures from our latest vacation. I occassionally run into problems with how big my site is, so can't swear I'll keep any of the pictures on this site for any particular amount of time.
Leave A Legacy at EPCOT
For the Millenium, Disney's creating a new sculpture that incorporates pictures of the visitors. It sounded like fun, so we decided to have our pictures added to it. They take pictures of either one or two people, turn them into little bit maps about an inch on a side and etch them on aluminum plates. We had three taken, Ian and me, Brendan by himself, and Selma with Morgan.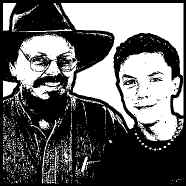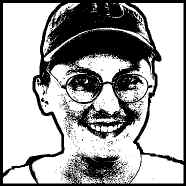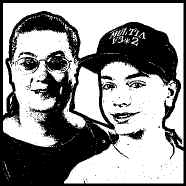 E-Mail postcards from EPCOT
We sent two e-mail postcards from the IBM Solutions for a Small Planet Exhibit in Innoventions at EPCOT. The first went to my mother, and the second to my cousin Ginger.

Postcard to Gramma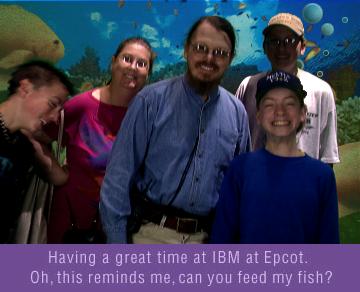 Postacard to Ginger
A little while later, while Selma was resting her feet and watching the fountains outside the Journey to Imagination pavilion at EPCOT, the boys and I played with ImageWorks, the Kodak "What If?" Labs, inside. The first one was a picture of the four of us, which we ran through the "Cartoon Maker" filter. I don't really think it worked all that well.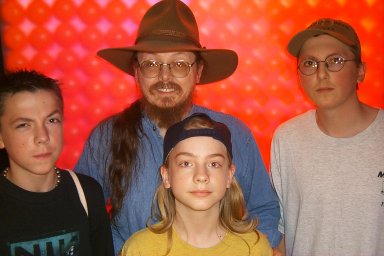 The raw picture.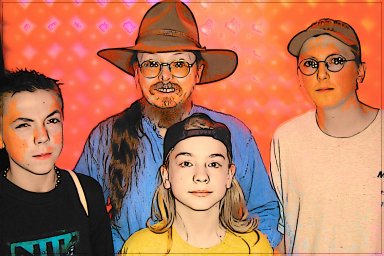 After being turned in to a "cartoon".
Disneyworld 1997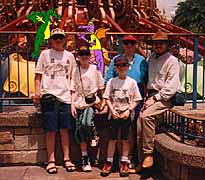 Family snap shot, Disneyworld '97.
Our companions courtesy of Ian.
The picture to the right is from our previous trip to Disneyworld. For our first several trips to Disneyworld, I always took a picture of Selma and the kid or kids on the Dumbo ride. This time they didn't all fit, so we had a passer-by take a picture of us all. Ian helped us all see that we were not alone. The other two in the picture a Figment (purple) and Puff (in green).