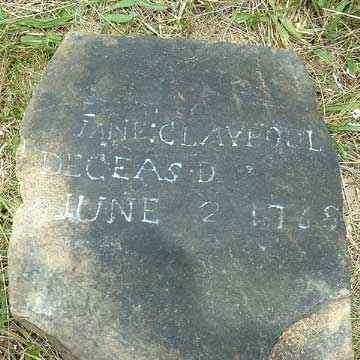 The condition of the stone in June 2004

The condition of the stone in June 2013

The hole Jane's stone was found in, in June 2013

The pieces of the stone are at the base of the tree
The inscription on this stone reads, to the best of our ability:

 JANE CLAYPOOL
DECEAS•D
 JUNE  2 1768

During our 2006 visit to the cemetery, Selma noticed that a small black stone that was largely buried had some writing on it and managed to make part of the name "Claypool" on it. We cleared away some of the surrounding sod and used shaving cream (see the 2004 map page for details) to bring out the lettering. The result can be seen in the top picture to the right.
We returned the stone to where we had found it. Unfortunately, it has since been broken (see the second picture to the right), probably by the equipment that was used to excavate a grave for Evelyn Miller Shipe in 2009. We have found both pieces and photographed them thoroughly. We hope to get professional advice as to how to best conserve this stone. At present both pieces are sitting beneath the tree, along with her husband James's which had also fallen.
In order to be able to eventually erect the stone in approximately the correct place, we have marked the whole it was found in in two ways. First, we have erected a temporary marker made with a custom license plate and bearing her name and death dte directly over the hole. Second, we dug up the modern marker that was placed in front of the displaced footstone, and placed it a foot or so down hill from the hole. Please note tat the modern marker has incorrect dates on it.
This seems pretty clearly to be the grave of Jane Claypool, the wife of "James Claypool (1701)", whose stone we found not too far away. Jane is listed by some researchers on the internet as "Jane Byrd". I question this, as James's great-great-grandfather Adam married a Jane Bird, who is far better documented than this Jane. To date, I've seen no primary or well documented secondary sources that support Jane's maiden name being "Bird". I would greatly appreciate any citations.
So far, this appears to be the oldest grave in the cemetery, and is a crude, hand-inscribed stone, possibly taken from an outcropping on the path leading up to the cemetery.