Welcome
Welcome to the all new Burrows Family Genealogy site. Our old site hadn't been updated in more than five years, so we thought it was about time to rework it. Our main problem had been that we are no longer using the software that generated those pages and were not terribly satisfied with the various possibilities for turning our current database, which is stored as a GEDCOM file, into HTML.
Contacting Us
One of the main reasons for having our genealogical data on-line is being able to contact cousins and other genealogists who are researching the same families we are. The following table gives a number of ways to contact us:
We would be happy to exchange information with anyone who shares a common ancestor or is studying one of the families on our tree. The software we use, GEDitCOM, is a GEDCOM editor for the Macintosh. One of its greatest advantages is that it directly edits GEDCOM files. This means that there is no import or export step between its internal format and GEDCOM for interchange. The occasional difficulty that goes with this is that it uses a very full implementation of GEDCOM V5.5, and we have occasionally had trouble exchanging data with software that uses a partial or non-standard version of GEDCOM. We're willing to with anyone who has a problem reading our GEDCOMs, though, so please feel free to contact us.
GEDCOM on the Web
Since we keep our data in GEDCOM format, one of the easiest ways to make it available in the Web is the
WorldConnect Project
on the
RootsWeb
site, where it can both be viewed directly and downloaded. Some details, such as most information on living individuals, are not available on WorldConnect. If you want further details or would like a GEDCOM extract please e-mail us (see above).
We also make our GEDCOM data available at
GenCircles
. Here, again, you can both view and download our data. The limitations on the number of generations that can be downloaded and which information is suppressed for living individuals differ from WorldConnect.
On-line Research Notes
We've recently started using Web pages to organize our data for researches in progress. This both gives us a way to see the data pulled together and allows us to collaborate with others. So far we have two pages of data:
We recently came into a fair amount of primary source data through fellow Anderson researchers on the Web. This page contains a number of deeds and other documents pertaining to the Andersons. It includes both scans and transcriptions of original documents and computer drawn maps of the property described in the documents.
Again, we've found a number of on-line sources and been contacted by a distant cousin whose inquiry caused us to search out primary sources on the Web. This page contains a number of census and vital records pertaining to the Stulls of Macomb County, Michigan.
I've been collaborating with some of my Blue family cousins, and so I'm using this page as a place to share the results of my work wit them.
One of my immigrant ancestors Is lt. Thomas Tracy, whose parentage is still somewhat murky and certainly controversial. I've been in recent contact with a couple of Tracy cousins and so I'm putting what notes I have here.
Selma and I visited the Miller/Claypool cemetery in Lost City, WV during our last Virginia genealogy trip, just a couple of days after realizing that our ancestors lived fairly close to each other. This page contains pictures of the Claypool graves we found on that trip.
Actually this isn't either about Selma dying her hair, nor the failure of her green thumb. Rather, this set of pages is where we're recording our researches into her father's family, the Browns, Tangemans, Rissers, and Benters. The latter three familys are all German, and we have been told that the Browns are as well.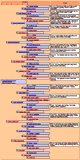 Pedigree Chart and On-line Index
In order to provide an overview of our family and to serve as an index into both the on-line GEDCOM data at WorldConnect and our own research notes, we've created a page containing a pedigree chart of the 6 most recent generations of our family. Even if we move our data again, our intent is that this page will serve as an index into wherever we choose to store the data.
The URL for the Pedigree Chart is http://www.eldacur.com/~burrowses/Genealogy/PedigreeChart.html.
The name of each person listed in the chart is linked to their page at WorldConnect, where you can find all of the information we are currently publishing regarding them and links to their immediate family members.
Additionally, the page contains notes on most of the families listed on the page. These contain pointers to on-line research notes and to family associations and other URLs of interest.
Obsolete Pages
Our genealogy data was one of the first things we put on the net more than six years ago. Most of the data in these original pages has not been updated in at least 5 years, although our own database has grown and changed quite a bit since then.
The old data can, for the time being, be found here.
Since those pages are obsolete, and may go away, you shouldn't create any new links into the ~burrowses/bdb/ area.